21.01.2013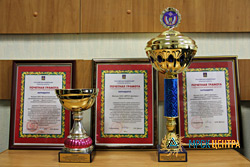 According to the results of the activity of territorial and functional units of the Bryansk regional territorial subsystem of emergency prevention and response in 2012 to protect the population and territories from emergency situations of natural and man-made character and to perform tasks of civil defense, IDGC of Centre — Bryanskenergo division took the first place among civil defense rescue services of the Bryansk region and was awarded a diploma and a cup of Governor of the Bryansk region.
The meeting to wrap-up the activity of the regional territorial subsystem of emergency prevention and response, performance of civil defense measures in 2012 and setting goals for 2013, at which the branch for its activities was highly appreciated, took place at the end of last year in the Administration of the Bryansk region.
Last year a joint commission of the Bryansk region during inspections of civil defense and emergency issues in three municipalities repeatedly was also checking structural units of Bryanskenergo. The conclusion of the commission was: "they are ready to perform tasks". Forces of all checked Distribution Zones during ceremonial reviews were distinguished with the best.
Bryanskenergo in recent years has paid much attention to the civil defense and emergencies. For three consecutive years, the branch has been one of the best organizations of the region for Civil Defense and Emergency (2010 — 1st place, in 2011 — 3rd place). In 2012, the branch took a number of measures for the development, coordination and approval of the plan of civil defense of the branch in a new form. Planning documents were worked out and approved in a timely manner.
The process of employee training and leadership training in the field of civil defense, emergencies is organized and controlled using training facilities (a projector, a PC, etc.).
Employees of the branch are provided with modern PPE at 100%, and the forces of civil defense are equipped to the standard.
Excellent performance on civil defense and emergency — the result of serious attitude to the work in this direction, which in May last year was also distinguished by the commission of IDGC Holding, and in September by the Commission of the Central Regional Centre of the Russian Emergencies Ministry.