18.01.2013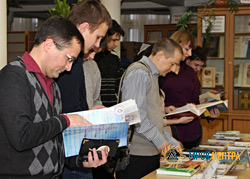 A presentation of the book on the history and present days of the Orel power industry "Electric lights of the Orel land" was held in the Orel Regional Library after I.A. Bunin.
The solemn ceremony was attended by library staff, Orelenergo, students and teachers of the department "Electricity" of the Orel State Agrarian University.
For the event the library staff prepared a thematic exhibition, which brought together all the publications dedicated to the regional energy sector. One of the first books on the subject in the fund of the Bunin's library is dated 1961. Many publications, by the way, were also at one time given by Orelenergo.
The book "Electric lights of the Orel land" was published late last year for the 55th anniversary of Orelenergo. Its pages contain unique materials and photographs from the Museum of History of the Orel Power System and personal archives. Authors covered a long period of time from the end of the XIX century, when the first electric motors just appeared in the Orel land, up to modern times.
One of the authors of the album, Chairman of the Veterans' Council of Orelenergo Ivan Shevchenko drew attention to the chapter on heroically died Nikolay Sirotinin in the beginning of the war in the Belarusian city of Krichev. Two years ago, Orel power engineers took the initiative to eternalize Nikolay's memory since the feat of the 19-year-boy from Orel at the time was not widely appreciated.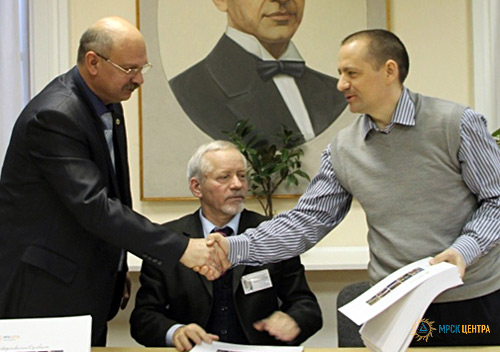 According to Head of Public Relations of IDGC of Centre — Orelenergo division Eduard Rudakov, the implementation of these projects is very important. "One cannot get hung up in the little world of short-term concerns, it is necessary to do something that goes beyond routine, that will leave its mark in history," — he stressed.
Several photo albums were also transferred to the department of "Electricity" of the Orel State Agrarian University with which Orelenergo has been cooperating in training for many years. Head of Department Alexander Vinogradov underlined that the photo album will definitely be interesting to students, as it contains the actual data on the Distribution Zones and equipment used in Orelenergo. In addition, the pages of the book have got a lot of graduates of the higher educational institution.
In conclusion Director of the regional library named after Bunin Valery Bubnov thanked the power engineers for fruitful cooperation and said that in the nearest future the new photo albums will be distributed to all district libraries and will be available to the general reader.