17.01.2013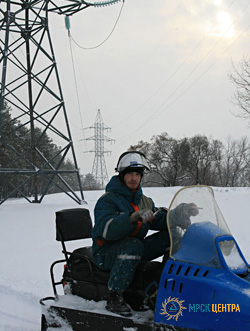 Specialists of IDGC of Centre — Tambovenergo division began using a new specialized vehicle — snowmobiles. The company purchased five snowmobiles to do the work of their employees more mobile. With their help, it is planned to inspect lines and promptly to deliver personnel of lines Service to fault locations in electrical networks.
Snowmobiles have trailed plastic sleds, with which power engineers will deliver tools, devices, and measuring instruments to remote areas. New vehicles speed up to 90 kilometres per hour.
According to Chief of lines Service of IDGC of Centre — Tambovenergo division Alexander Fekolkin the acquired make is one of the most popular snowmobiles of type "Taiga". According to experts, the combination of skis and tracks of more than a half-metre width allows this vehicle to freely navigate on a snow covered road.
In winter, bad weather and heavy snowfall often cause icing on wires, and from the boundary of ROW trees may fall on power lines, which can lead to failures in the power grid equipment and interruptions in electricity supply to consumers in districts of the region.
— Application of the new modern snowmobiles allows our branch to increase the efficiency of work of repair crews in the winter time by reducing the time to find fault and deliver personnel to the damaged equipment, — underlined Deputy Director for Technical Issues — Chief Engineer of IDGC of Centre — Tambovenergo division Igor Polyakov. — It will also allow more quickly to eliminate damage to power lines, which in turn will improve the reliability of electricity supply to consumers.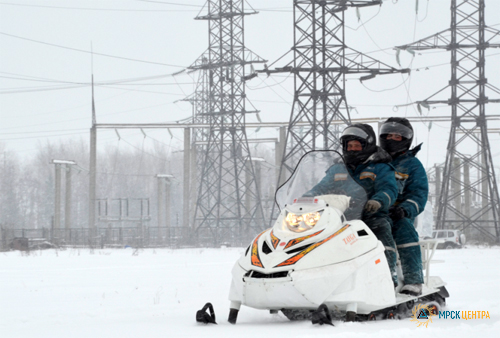 Before this year, power engineers had to move only in the winter with skis, because any heavy vehicles bogged down in the snow. Sometimes they had to ski dozens of kilometres to find the damaged high-voltage line. Now it has become easier to regularly inspect overhead lines, it takes less time to locate and isolate a fault.
On average, during the daylight hours along an extremely snowy road each specialist of a repair crew can inspect the line of about 5 kilometres. With a snowmobile the coverage area increases significantly — more than 50 km per a working day.