16.01.2013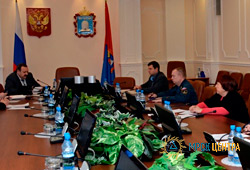 Head of energy conservation and energy efficiency of IDGC of Centre — Tambovenergo division Sergey Pervushin participated in a video conference, in which mode weekly there is communication with the heads of districts, town and village councils of the Tambov region.
Heads of municipalities in the region on-line discuss topical issues concerning the implementation of authorities by local self-governments on issues of district importance.
Sergey Pervushin made a presentation on the topic "Energy conservation and electricity metering, regulatory requirements". Relevance of the information is due to the fact that energy conservation is among the priorities. The task of informing the general public about the requirements of the current legislation for Tambov power engineers is a priority, so the help and support of municipal authorities is necessary and important.
The deadline for the installation of water, heat and power meters ended July 1, 2012, therefore, if a metering device has not been installed, power supply organizations until July 1, 2013 are required to perform work to install meters at all facilities connected to the grid.
In accordance with legislation, all energy resources are subject to mandatory metering using meters. This requirement does not apply to facilities, whose power consumption of electrical energy is less than five kilowatts of electricity.
Energy conservation law amended the Code of Administrative Offences (CAO), providing for the imposition of penalties both on officials and legal entities.
The obligation and, therefore, cost of installation and operation of meters is assigned to the owner of the facility. Energy suppliers are obliged to work on the installation, replacement and maintenance of meters. If the owner is not able at this time to pay for the installation of meters, a power supplying organization provides installment payments for a period of up to 5 years.
IDGC of Centre — Tambovenergo division will continue informing Tambov region residents in the future. Each user can apply to Distribution Zones of Tambovenergo located in all district centres of the region and get detailed advice on issues related to replacing or installing electricity meters. It is also possible to get consultation by calling the Direct Power Hot Line at 8-800-50-50-115.