15.01.2013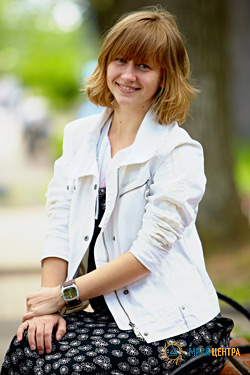 Specialist of HR Department, Chairman of the Youth Council of IDGC of Centre — Lipetskenergo division Darya Stepanova was a prize winner of the All-Russian contest of youth projects in December 2012. The purpose of the contest, organized by the Federal Agency for Youth Affairs by the order of the Government of the Russian Federation, was the involvement of young people in social practices and revealing their potential for development. It was attended by about 15,000 people aged 14 to 30 years. 1000 best in 11 nominations were selected from 4785 submitted projects. Premium fund of the contest was 120 million rubles.
Darya Stepanova' project "Manage the future" in the nomination "Patriotism" was awarded with a cash grant, which, in accordance with the terms of the contest will be used to implement this idea. The main goal of the project, developed by Darya Stepanova, is the creation of associations of young workers in Russia.
"Today, young people often do not have an idea of building a career, protecting their interests in the workplace, and the saddest thing is that the value system is distorted, and common interests are lost. Establishment of an association of young people will help unite young workers on the basis of social activities aimed at addressing the problems facing both the community and specific enterprises, employing this youth," — commented Darya Stepanova on the relevance of her work.
The objectives of the created association, according to the author of the project, will include civil and patriotic education of the youth of the Russian Federation, the popularization and promotion of healthy lifestyles among young people of the Russian Federation, educating young people in the historical events of the 1941 — 1945 period.