15.01.2013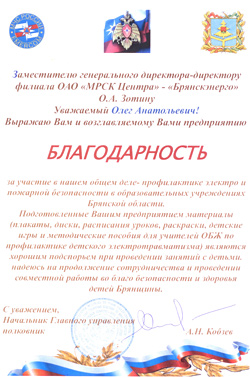 In the name of Director of IDGC of Centre — Bryanskenergo division Oleg Zotin came a letter from Chief of the Ministry of Emergency Situations of the Bryansk region Alexander Kobzev.
The letter reads: "I express gratitude to you and the company headed by you — IDGC of Centre — Bryanskenergo division — for the assistance in organizing and conducting lessons on electrical and fire safety. Handouts: posters on prevention of children's electric injuries and disks containing the projects of lessons for life safety teachers and teaching materials, as well as models of timetables, colouring books and children's games that you have shared with the Directorate of the Russian Emergencies Ministry in the Bryansk region, help employees of the Supervision Office to conduct training to prevent electrical and fire injuries. Expressing our gratitude, I hope for continued cooperation in productive joint work for the security and health of children of the Bryansk land."
This is not the first letter of thanks expressed by the executive authority of the Bryansk region to IDGC of Centre, which includes Bryanskenergo, for the work conducted on the prevention of children's electric injuries. So, at the end of last year, a thanks letter to the head of IDGC of Centre came from the State institution of further professional education (retraining) of specialists "Bryansk Institute for Advanced Training in Education".
According to Head of production control and safety Office of Bryanskenergo Pavel Zlobin, the branch pays special attention to prevention of children's electric injuries. In the future the branch will continue working in this direction and will look for new forms and methods of preventing children's injuries. In the near future there are also plans to involve other interested state and local governmental structures to conduct lessons on electrical safety.