11.01.2013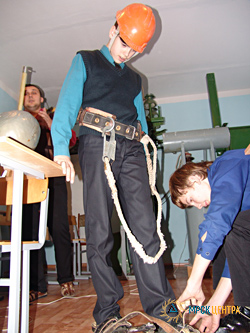 The proposed by IDGC of Centre — Orelenergo division handbook for the lesson to prevent third-party electrical injuries was studied by Methodists of the Orel Institute of Teachers' Advanced Training.
According to experts, the handbook has some good methodological support, which gives detailed information on the causes of electrical injuries, forms of warning and banning posters and safety signs, electrical safety measures in the city and in the country, measures of electrical safety at home, electric current impact on the human body, provision of first aid to the injured with electric shock. The handbook is well illustrated, which allows to use this material for teaching pupils of different age groups.
As noted in a letter of Head of the Department of Education, Youth and Sports of the Orel region Galina Kaznacheeva, the material will be recommended for teaching life safety classes. In particular the handbook of Orelenergo will be good for classes in the fifth, eighth and ninth grades to study safe behaviour in everyday situations, protection in emergencies, and first aid provision. In addition, useful guidelines will be used for the organization of educational work with parents.
Please, note that the Orel branch of IDGC of Centre pays great attention to the prevention of children's electrical injuries. Specialists of the branch during the year conduct lessons on electrical safety in all 24 districts of the region in pre-school, general educational and secondary specialized institutions. Thus, in 2012, 97 such lessons were held.