31.12.2012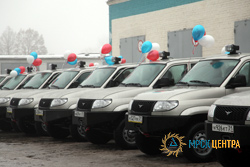 Staff of Belgorodenergo received 24 new off-road vehicles at their disposal. Keys to the made in Russia SUV UAZ Pickup to drivers-electricians of crews of services of diagnostics, relay protection, automation, measurement, and metrology and first responding mobile crews were handed by Deputy General Director of IDGC of Centre — Belgorodenergo division director Roman Tkachenko.
The new vehicles will improve the efficiency of diagnostics of power equipment, reduce the time to identify and eliminate process violations, as well as to deliver personnel to a work site — remote sections of power lines and substations.
These SUVs can easily cope with the most difficult parts of the road surface, ideal for carrying large amounts of protective equipment, tools and accessories, have good performance characteristics. They are equipped with power steering, power-intensive suspension and have durable body construction.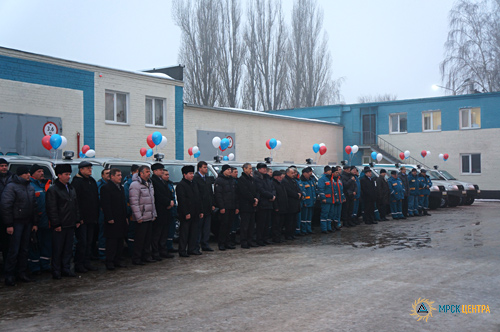 "Every fourth employee of the power system is a driver or driver-electrician. Therefore, the ability to quickly and efficiently perform tasks is directly related to the availability of modern vehicles and machinery, — explained Deputy General of IDGC of Centre — Belgorodenergo division director Roman Tkachenko. — I am sure, the new vehicles will benefit not only us, the power engineers, but also the residents of the region we serve."
Today, the branch operates 726 vehicles required for immediate performance of production tasks. In 2012, 36 vehicles were purchased — excavators, forklifts, cranes, hydraulic lifts, etc. The plans for next year — adding more than 270 pieces, including a mulcher — a special mechanism designed for chopping wood, stumps and brush standing in clearing ROWs along power lines.