30.12.2012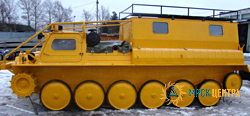 Power engineers of IDGC of Centre — Orelenergo division received 23 UAZ 3909 vehicles, four emergency-repair shops on the GAZ-33081 chassis and an all-terrain vehicle "TREKOL".
These vehicles are designed to transport emergency repair crews, special equipment and tools. Among their advantages — the ability to move on the road off-highway. Length of overhead lines of the company reaches 28,300 kilometres and many ROWs are located in remote places. Availability of off-highway vehicles will significantly reduce the time of restoration work in the case of interruptions and adverse weather conditions.
This year, the company also added its fleet with other necessary special vehicles. For example, a crane-digger and two 14-metre hydraulic lifts came at the disposal of the power engineers.
Overall, for 9 months 32 vehicles were purchased, on which the company spent 32.2 million rubles. Currently the fleet of Orelenergo has more than 500 vehicles.