26.12.2012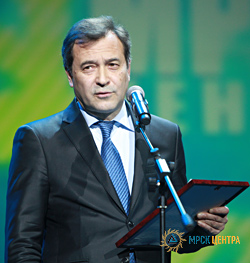 IDGC of Centre — Yarenergo division held a festive event dedicated to the Power Engineers' Day. In a solemn ceremony the company summed up the past year and presented corporate and industry awards.
The guests of honour at the event were HR director of IDGC of Centre Alexander Lyaskin, Deputy Governor of the Yaroslavl region Vyacheslav Blatov and Andrey Epaneshnikov, as well as Director of municipal facilities of Yaroslavl Mayor's Office Nikolay Stepanov. They congratulated the employees of the branch on the Power Engineers' Day and awarded the most distinguished members of the profession with Diplomas and letters of gratitude.
Among the rewarded — head of electricity metering Office of the branch Marina Stolbnikova, awarded with marks of distinction of IDGC Holding "For mentoring" and Electrician of first responding mobile crew of Yaroslavl section of substations service Group Valery Agafonov, listed on the honours board of IDGC Holding for 2013.
The title "Veteran of the distribution grid complex" was awarded to Chief of Rostovsky Distribution Zone Nikolay Volkov. Electrician of Poshekhonsky Distribution Zone Sakenbek Abakanov was awarded with a Certificate of Merit by the Holding Company. Letters of thanks of IDGC Holding were given to employees of mechanization and transport Service Anatoly Donskoy and Alexander Ermakov, leading engineer for relay protection and automation Alexey Kuznetsov and electrician of Yaroslavl Distribution Zone Sergey Terekhin. Other 31 employees of Yarenergo received corporate awards of IDGC of Centre.
Director of the branch Igor Solonikov congratulated his colleagues on their professional holiday and a Happy New Year: "To feel the atmosphere of the New Year one can only with relatives and loved ones. I wish happiness and health to you and your families. I wish plans of every family and every individual be implemented. Have all your plans to be realized and good support of your friends, relatives and folks. Happy Holidays!"