26.12.2012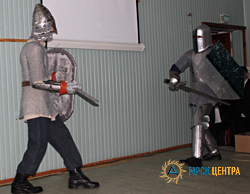 On the eve of the New Year the Youth Council of IDGC of Centre — Bryanskenergo division held a visiting session in Suzemsky Distribution Zone and came to children of the Neginsky orphanage.
Representatives of the youth organization of the branch told young colleagues of Suzemsky Distribution Zone on the main areas the Council is engaged in while working with young people, and the events that the representatives of the youth had in the second half of 2012 and plans for the future.
Particular emphasis was placed on the development of scientific and practical activities in the branch. For example, young workers of Suzemsky Distribution Zone learned about the scientific conference held at the branch, as well as the upcoming research and technical conference, to be held in the first half of 2013.
The Council's members also told their colleagues about the experience of the members of the youth organization of the branch in the implementation of the youth policy of the city of Bryansk and Bryansk region: Pavel Tsykunov is part of the Youth Parliament of the Bryansk region, Maxim Dankin — part of the Youth Council under the head of the Bryansk city administration.
The Youth Council's members also visited the Neginsky orphanage — the state educational institution for orphans and children left without parental care.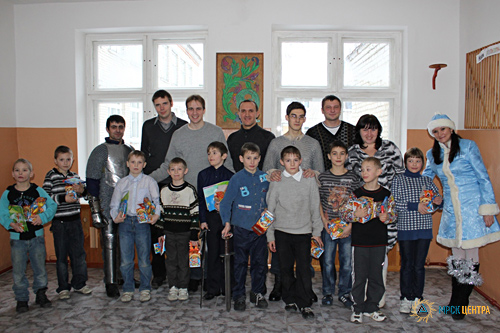 The children prepared some amateur performances for the power engineers. After that, the representatives of the youth organization of Bryanskenergo told the children of the orphanage about the power engineering occupation, and gave them sweet gifs. The Youth Council of Bryanskenergo brought another surprise for the children. Master of a crew for electrical equipment diagnostics of Suzemsky Distribution Zone Mohamed Ammayev, who is the founder of the historical fencing club "Fragments of History", held for the children a master class in fencing. The representative of Bryanskenergo surprised the children of the orphanage not only with his masterful performance of fencing maneuvers, but also with his gear. He performed in metallic armour that he had made with his own hands.
At the end of the meeting the soccer team of Suzemsky Distribution Zone with the head of the Distribution Zone Alexander Kiriyenko held a friendly soccer match with the orphans. Also, the representatives of Bryanskenergo played table tennis and darts with the children.