25.12.2012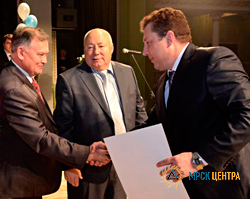 In the building of the Tambov regional drama theater a solemn meeting dedicated to the Power Engineers' Day was held. Employees of IDGC of Centre — Tambovenergo division received congratulations and corporate awards: departmental awards of the Ministry of Energy, IDGC Holding, IDGC of Centre, IDGC of Centre — Tambovenergo division, as well as Certificates of appreciation and Letters of the Tambov Regional Administration and Tambov Regional Duma, the Tambov City Administration and Tambov City Council. It is a sign of gratitude of authorities at all levels to the Tambov power engineers of IDGC of Centre for their hard, but such necessary labour.
A special place among these awards is the episcopal letter of His Grace Theodosius, Bishop of Tambov and Michurinsk that was given by First Deputy Chairman of the Tambov Regional Duma Vladimir Karev to Deputy General Director of IDGC of Centre — Tambovenergo division director Vladimir Syschikov. This certificate is the special contribution of the employees to the revival of spirituality in the Tambov region. In addition, according to Vladimir Tambovenergo's activity in recent years has transformed the power grid facilities of the region.
Congratulating the employees on their professional holiday, Deputy Governor of the Tambov region, Nikolay Perepechin underlined that Tambovenergo's team works so reliably, that the authorities of the region look into the future with ease and confidence. The active cooperation of all branches of government and power engineers of IDGC of Centre enables businesses to work steadily and move forward.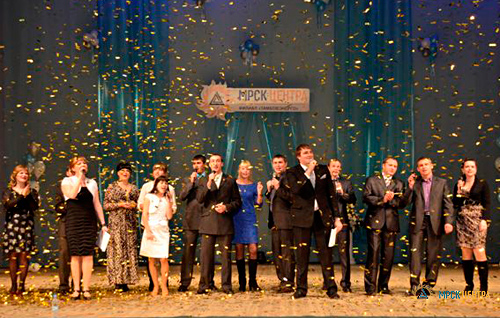 — We have serious tasks ahead, which annually increase dramatically. But knowing how staff of Tambovenergo works, I have no doubt that they will be successfully implemented — noted in his speech Vladimir Syschikov. — It is enough to see the results of the last two years — what significant work has been done by the team on the electrification of agricultural and industrial enterprises. There have never been such volumes in the history of the Tambov region. But for all the coming years there no less important tasks identified in the region. I am sure that we will do everything planned, and the next year will be one of the most successful in terms of construction and reconstruction of electric grid facilities.