20.12.2012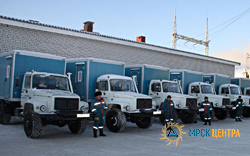 In 2012, IDGC of Centre — Yarenergo division purchased transportation and special vehicles in the amount of 31.8 million rubles. The new vehicles are distributed in all Distribution Zones of the branch. At present the fleet of Yarenergo has 688 vehicles.
15 passenger and one cargo truck of UAZ make were received by the power engineers at their disposal. These versatile vehicles have long been used in the branch and have already helped mobile crews of Yarenergo timely to come to the place of work in all driving conditions. In 2012 the purchase of seven automobile workshops on the GAZ-33081 chassis was also included. Their equipment includes a lot of gear, with which they can perform work on power facilities with minimal involvement of additional equipment. Especially for Uglich Distribution Zone a multifunctional crane MKM-200 based on URAL vehicle was purchased. With its help power engineers will be able perform drilling and loading, as well as to work at height, for example, for repair and maintenance of power lines.
All the listed equipment was procured under the fleet renewal, when new vehicles came to replace those amortized during the inspection. This year's feature is the acquisition of 15 snowmobiles "Buran" and trailers for their transportation. Most of the overhead lines in the Yaroslavl region pass in a wooded area, and a portion of power facilities is located in the remote areas of the region. Therefore, in winter it is possible to get to them often only by a snowmobile.
"Upgrading and adding vehicles is a key to the successful operation of power engineers. This is especially true in the autumn-winter period, when adverse weather conditions may affect the efficiency of first responding and mobile crews. I hope that the new vehicles will help our specialists to cope with the maximum load on the grid without major disruptions,"- stressed the chief of mechanization and transport of IDGC of Centre — Yarenergo division Alexander Klein.