20.12.2012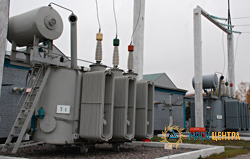 In 2012, power engineers of IDGC of Centre — Tambovenergo division have completed the next stage of reconstruction of the substation 110/6 kV "October", which is the largest supply centre. The substation feeds electrical consumers of the city of Tambov and Tambov region: OJSC "Tambov factory "October", OJSC "Tambov Utility Systems ", OJSC "Tambovagrokomplekt" etc.
During the reconstruction 29 morally and physically obsolete oil 6 kV circuit breakers were replaced with better, vacuum ones. 6 kV bays are equipped with arc protection to minimize the possibility of failure in the operation of the substation equipment.
Thanks to the reconstruction the substation now meets the latest requirements for reliability and quality of electricity supply.
In 2007 the station was transferred to the balance of IDGC of Centre — Tambovenergo division from OJSC "Tambov factory "October". According to an inspection included the substation was included into the repair program, as well as into the target program of Tambovenergo to improve the reliability.
During the major overhaul two power transformers rated at 25 MVA each, six 110 kV disconnectors were repaired with replacement of support-core insulation, two auxiliary transformers, 6 kV oil circuit breakers, and 110 and 6 kV bus sections. Oil receivers under the oil-filled equipment, cable trays, reinforced concrete and steel structures, lighting and fencing of the substation were repaired, and 110/6 kV lightning protectors were replaced with surge arresters.
To ensure a high level of safety in the operation of the electrical installation electromagnetic locks were installed on the 110 kV disconnectors. All the substation equipment is painted in accordance with the corporate style of IDGC of Centre, and the premises are fully landscaped.
In 2009, in line with the implementation of the investment program of Tambovenergo at the 110/6kV substation "October" outdoor switchgear of 110 kV was reconstructed with the replacement on interconnections of the power transformers of the outdated 110 kV switchgear "isolating switch- short-circuiting switch" with two modern gas-insulated circuit breakers together with installation of a sealed battery and operating current control system.