17.12.2012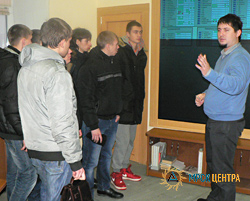 IDGC of Centre — Tverenergo division held an open doors day for 15 students of the first and third years of Vocational Lyceum # 16 of Tver.
As part of the Open Doors Day the students were able to see the activity of the branch, operation of power equipment, and to ask questions specialists of Tverenergo. The power engineers talked about the structure of the branch, the major power facilities, social security, and prospects for professional growth.
Head of technical and production control Vadim Mazur had a discussion about the behaviour near power facilities, the measure of the danger inherent in the power grid equipment, prohibitive actions in the vicinity of substations and power lines. The students received information on the provision of first aid to a victim with electric shock and in other emergency situations. Practical skills were practiced on a simulator called "Gosha".
One of the stages of the day's tour was a visit to the Grid Control Centre (GCC), where the future power engineers were introduced to the organization of the work of specialists and saw technical equipment of the GCC. The students were told about some interesting and responsible work of operators that supervise operational mobile crews and control the situation in the region.
The Open Doors Day ended with a visit to the substation (SS) 110/10 kV "Proletarian". Deputy Chief of Operations and Technology Service of the GCC Ivan Sukhanov showed the young people the substation equipment, current limiting reactors, vacuum and gas-insulated switches, operational control centre and protection panels.
Head of Human Resources of Tverenergo Sergey Zhirkov stressed: "The succession of generations, sharing experience, a constant desire to meet young people are important activities of Tverenergo in training its staff. This tour is the transfer of knowledge and contribution to the future of our power system. In the future the graduates of the Lyceum can come to work at the branch."