14.12.2012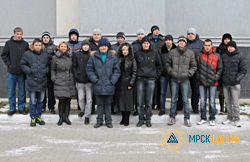 By the initiative of Human Resources Office of IDGC of Centre — Voronezhenergo division sightseeing tour of the company for students of electrical department of the Voronezh College of construction technologies took place.
The event program was rich and various. Thus, the tour started with a visit to the Museum of Energy of the branch, where the students got acquainted with the history of the Voronezh power system development, equipment used in the electric grid facilities of the company over the different years, learned about the people who played a significant role in the energy sector of the region.
In the conference room of Voronezhenergo the college students were given a presentation on the branch, in support of which Head of Human Resources of the branch Evgeny Novikov told about the social policy, and Deputy Chief Engineer — Head of Distribution Networks Office Vyacheslav Antonov touched upon technical issues of Voronezhenergo's activity.
The final part of the tour was a visit to the substation "Central" which supplies power to the central part of Voronezh. The students were able to observe the operation of a unique substation of an indoor type, operating without the involvement of staff and constructed using switchgear bays with 110 kV cable lines with XLPE insulation. During the tour, the college students were looking at the modern equipment with attention, asking the tour guide many questions.
It should be noted that the work with students is carried out by specialists of Voronezhenergo regularly. Its aim is to inform future field-specific specialists on the activity of IDGC of Centre, giving them grounds for arguments about the choice of their place of employment.
According to Evgeny Novikov, IDGC of Centre — Voronezhenergo division is interested in attracting young professionals with specialized education for blue-collar positions.
After the event, the students and faculty staff of the Voronezh College of construction technologies thanked the organizers for the tour held, and expressed hope for further cooperation.