13.12.2012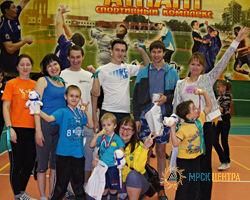 One of the areas of social work of IDGC of Centre — Yarenergo division is strengthening family values ​​and support for active hobbies of the branch's employees. In this area of ​​activity Yaroslavl power engineers participated in a family sports festival "Dad, Mom, I — an energetic family" and an open chess tournament.
The branch's employees came to the event with their families. Funny contests, organized by the Youth Council of Yarenergo, were enjoyed by everyone from young to old. The participants were throwing darts, shooting from a toy crossbow, playing an impromptu golf, competing in the long jump and all together bodied a running centipede. Children were the most active, of course. The young were so wildly playful, so enthusiastically ran and jumped, that it was time to connect the power receiving units to them. Kilowatts of fun coming from the young power engineers charged all participants with good mood.
For fans of intellectual sports the branch organized the first open chess tournament. It was attended by members of the executive office, Distribution Zones of the branch, as well as veterans of the Yaroslavl power grid. It is noteworthy that the tournament was named after the famous Yaroslavl power engineer and innovator Pavel I. Ginodman.
The tournament was won by Operator of operational and technological Group from the town of Rostov Valery Maximov. Second place went to Leading Engineer of Rybinsk Distribution Zone of ​​operational substations service Vladimir Nalivaiko. "Bronze" went to Engineer of execution and control of grid connections Evgeny Vlasov.
Many participants showed a high level of gaming and real will to win. In the struggle for the top places at the black-and-white board there were strong players, who managed to play custom memorable games. Following the tournament the best Yaroslavl players — power engineers will represent the branch in the Sports Games of IDGC of Centre.