06.12.2012
The branch of the Customer Service Centre (CSC) of IDGC of Centre — Bryanskenergo division, located in the city of Bryansk, Sovetskaya st., 35, received its fifty thousandth client.
It was Vladimir Pisarenko — a representative of an organization that builds blocks of flats. In the CSC Vladimir was handed the act that signifies completion of the grid connection procedure of a block of flats.
— Our organization has been working with Bryanskenergo for years, — says Vladimir Pisarenko. — Mostly we request the branch for services on grid connection. It is worth noting that Bryanskenergo always and in time fulfills its obligations to our organization. It is very convenient that the employees of Bryanskenergo call us themselves and report the availability of documents.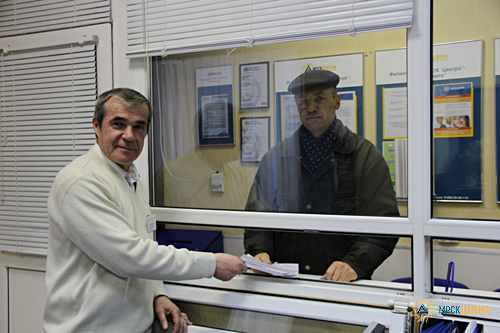 The Customer Service Centre was launched in February 2007 in the building of the executive office of Bryanskenergo. In June and July of that year, offices of the CSC were opened in the cities of Klintsy and Pochep.
Every year the number of requests received by the branch increases. So, 19,074 requests were recorded for eleven months of last year, for the same period this year — more than 19,200. Of them the branches of the CSC were visited by clients this year more than 7,200 times, the majority — 4,247 visits — account for the CSC office, located in the city of Bryansk, Sovetskaya st., 35.
For information about the services provided by Bryanskenergo, please, visit the offices of the Customer Service Centre at: Bryansk, Sovetskaya st., 35; Klintsy, Zaitseva lane, 7; Pochep, Starodubskaya st., 27, call the Direct Power Hot Line at 8-800-50-50-115 (toll free), or send your question to the address of the Internet reception at www.mrsk-1.ru.