04.12.2012
IDGC of Centre — Orelenergo division summed up the contest "Energy and me". The event was organized in honour of the 55th anniversary of the company and the Orel power grid. Its goal: to provide an opportunity to talented and creative employees to express themselves and to increase young people's interest to professions of the energy sector.
For the first time the contest organizers decided not to limit the participants: the contest could accept any project, whether it was a creative initiative or scientific research. The company's employees and their children were asked to dream up on topics related to the native enterprise and energy in general.
The contest was announced in July of this year. For a few months the jury was presented more than 50 works from all districts of the region. The greatest activity was shown by children of employees of Novoderevenkovsky Distribution Zone. The children wrote essays about energy, drew their parents at work and told stories of their families. A lot of pictures were presented for the contest.
Among the works the jury noted the work of Artem Zakharov — the son of Acting Chief Engineer of Orelenergo Sergey Zakharov. He wrote a story about the early years of his dad, who started his career as an electrician in Pechora SDPP.
Adult participants, as opposed to children, dedicated their projects directly to their own company. Anthems of Orelenergo, a collection of articles on dynasties, a series of photographs of power facilities were presented for the contest.
Among the employees' works the jury particularly noted the painting on silk of Engineer of production and technical group Valentina Chusova. Valentina portrayed a high-voltage power line with poles in the form of graceful dancing ballerinas. The latest trends in the field of industrial design inspired the young woman for this picture. People started to think long ago about how to put power lines in the landscape in a nice way. In the world, including in Russia, poles have begun to appear in the form of animals and human giants. Perhaps someday Valentina's project will be implemented in the Orel land.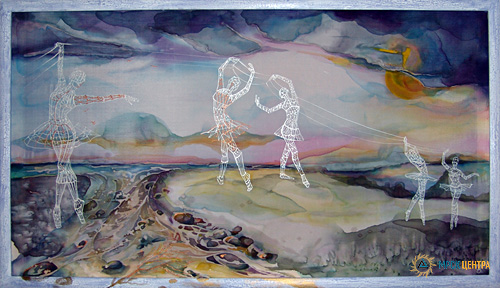 "Choosing a winner was very difficult. Especially in the children's works. It's amazing how talented they were made. It can be seen that the participants did their best. We felt that all the projects deserved the first place,"- says Head of Human Resources Office Marina Yakovenko.
The jury decided to reward all the participants with prizes and certificates.