04.12.2012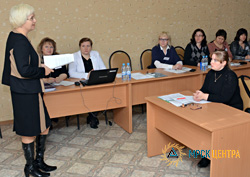 In the Tambov Regional Institute for Advanced Training of Educators the final stage of the regional competition of educational training projects "Project XXI century: research, creativity, collaboration!" passed, which was held as part of the international program Intel® "Teach to the Future". The contest was organized by Department of Education and Science of the Tambov region.
The contest, aimed at the dissemination of experience of teachers to implement the project methodology in the teaching process, initiated by IDGC of Centre — Tambovenergo division, was dedicated to the 165th anniversary of the birth of the inventor of the incandescent lamp A.N. Lodygin.
The main purpose of the contest was to develop methods of creating educational projects in the transition to new educational standards, and to draw attention to the activities of the prominent Russian electrical engineer, inventor of the incandescent lamp A.N. Lodygin.
At the first stage the contest featured 50 projects, authored by 91 teachers. At the second, final, stage the jury considered 11 projects developed by teachers of various educational institutions of the Tambov region. The mandatory components of the project were: presentation, pupils' work, educational materials for maintenance and support of project activities.
The jury that included Head of Human Resources of IDGC of Centre — Tambovenergo division Olga Vyazovova (a certified tutor of the international educational program Intel® "Teach to the Future"), marked the most interesting projects.
The winner of the contest was Irina Kozlovtseva — a teacher of mathematics and computer science of Verkhnespassky secondary school of Rasskazovsky district in the Tambov region. Schoolchildren of the school within the project sought to answer the question: scientific discovery — a random passenger or the constant companion of a scientist. Elena Eremina and Elena Blytova were also marked — teachers of the Russian language and literature from Rzhaksinsky secondary schools # 1, who presented their draft "Tambov Prometheus".
The teachers were presented with letters of appreciation and gifts from IDGC of Centre — Tambovenergo division.