30.11.2012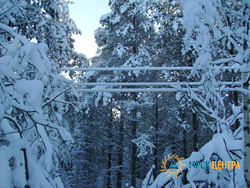 Heavy snowfall and wind up to 20 m/s did not cause mass power supply interruptions in the Tver region. As of the morning of November 30 there are no outages in the main network of 35-110 kV.
Partial interruptions in 0.4-10 kV distribution network in some areas of the region are quickly being eliminated by Tver power engineers of IDGC of Centre. At the moment, there are 24 operational and repair crews on the lines with 10 special vehicles.
IDGC of Centre — Tverenergo division under the leadership of the operational headquarters in conjunction with the Department of Emergency Situations in the Tver region, enterprises of FGC UES and the executive authorities control the operational situation.
To ensure the reliability of power supply Tverenergo has kept the high alert operation mode. Power equipment is being inspected more often. Staff responsible managers and specialists are on duty around the clock. 116 restoration crews of 710 people, 276 special vehicles in all Distribution Zones of the branch are fully ready. In the case of failures the branch will also attract 5 additional crews and 427 special vehicles of contractors.