30.11.2012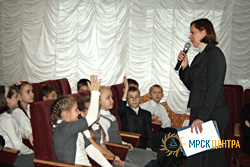 Specialists of IDGC of Centre — Belgorodenergo division together with General Directorate of EMERCOM of Russia in the Belgorod region conducted a public lesson on electrical safety for schoolchildren of school # 38. The main purpose of these lessons — to prevent accidents at power facilities and form the children's culture on the safe management of electricity, which is particularly important on the eve of winter holidays.
The power engineers and representatives of EMERCOM introduced schoolchildren to the basic rules of electrical safety, which should be followed at home and in the street, demonstrated safety signs and posters, which are available at all power facilities and warn of hidden danger.
Even coming closer to such facilities is deadly, more over getting inside or into premises of substations, climbing poles or roofs of houses and garages, where wires and communication lines pass. Pupils were instructed on how to act in cases where the electrical wire is slack or broken off, learned to leave the alleged danger zone without being injured.
The experts believe that conducting such lessons at school needs paying more attention, because this type of injury is practically absent in the curriculum of the school course on life safety as well as in plans of other subjects. To date, the study of electrical safety is reduced to clarifying the rules for safe handling of electrical appliances and the rules of conduct during a thunderstorm. In addition, lessons on prevention of electrical injuries do not cover all school ages, so children underestimate the danger of being close to electrical installations and are often not able to choose a proper place to play.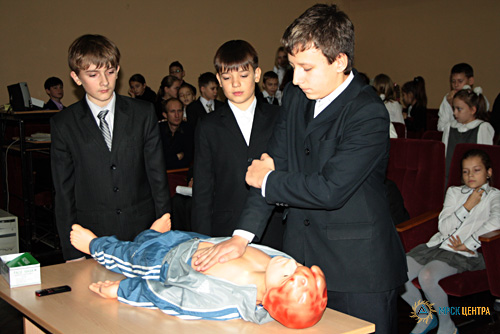 As a result — in the country each year dozens of facts of electric shock injuries are recorded. Children's electrical injuries account for 25 to 30% of the total number of accidents. The same statistics shows that, compared with other types of injuries, electrical injuries most often lead to severe burns and deaths.
Belgorodenergo believes that prevention and warning of electrical injuries — the best way to combat it, so it is always ready to help teachers to conduct lessons on prevention of electrical injuries. To help teachers the power engineers have prepared a toolkit, developed jointly with the Belgorod Regional Institute for training and retraining of specialists — a collection of the best lessons, and a DVD-ROM on the results of the regional contest "The best lesson on electrical safety". And for the kids they made fascinating themed games, memos, colouring books, cartoons and videos.