28.11.2012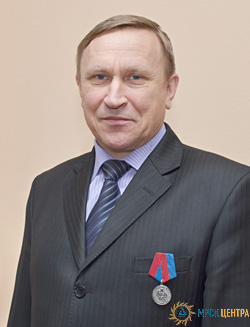 For the contribution to the development of the trade union movement of the Tambov region, protecting the interests of workers Chairman of the Tambov regional trade union association Evgeny Knyazev awarded commemorative medals "75 years of the Tambov region" 40 distinguished trade unionists at the IV meeting of TRTUA Council.
Among the awarded — an employee of IDGC of Centre — Tambovenergo division: senior engineer for execution and control of grid connections of Department of grid connections Galina Popova and leading specialist of HR Management of Human Resources Office Vyacheslav Engovatov.
In 2012, the Tambov land marks its 75 years' anniversary since the formation of the Tambov region. In celebration of this event, the decision of the Tambov regional administration established a special commemorative medal. According to the resolution, it is given to citizens for achievements in labour, patriotic education of the younger generation, for exemplary performance of duty and significant contribution to the socio-economic and cultural development of the region.
Vyacheslav Engovatov and Galina Popova make their big contribution in community work of Tambovenergo, are actively involved in the organization of cultural, sports and recreational activities among the company's personnel. For achievements in industrial activity, long active work in the trade union, contribution to the protection of labour and social and economic rights and interests of trade union members they were repeatedly encouraged with industry and public marks of distinction in labour.
Since 2000, Vyacheslav Engovatov — a member of the trade union committee of Tambovenergo, and from 2005 to the present — Chairman of the trade union committee of the executive office of IDGC of Centre — Tambovenergo division, a member of the Council of Chairpersons of the Tambov regional organization of the All-Russian "Electric Trade Union". And Galina Popova has been heading a workshop committee for over ten years.