27.11.2012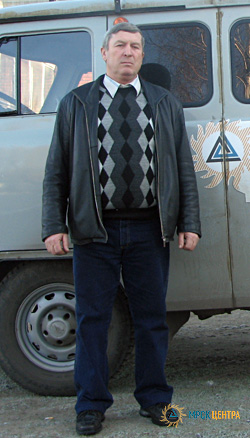 The honorary title "Honoured Power Engineer of the Russian Federation" was given to Electrician of a mobile crew of operational and technological Group of Unechsky Distribution Zone of IDGC of Centre — Bryanskenergo division Mikhail Rebichenko.
Mikhail F. Rebichenko has been working at Bryanskenergo over twenty years. His work in the branch began in 1986 from the position of an electrician operating distribution networks of degree 4 in Unechsky section of Western Distribution Zone of Bryanskenergo. A year later, Mikhail was transferred to an electrician of a mobile crew of degree 5.
Mikhail permits visiting persons and staff of Bryanskenergo to work at five substations, transformer substations and high-voltage lines that are in the service area of Unechsky Distribution Zone.
— During his time of work Mikhail Rebichenko has proved to be an industrious, enterprising employee who in emergency situations does his best to restore interrupted power supply of residents in Unechsky district as soon as possible, — says Chief of Unechsky Distribution Zone Victor Gorokhov. — He is always ready to help.
While working at Bryanskenergo Mikhail Rebichenko has many times participated in the crew in competitions of professional skills in the operational maintenance of equipment of 35-110 kV and won prizes.
Mikhail has several awards on his account — "Diploma of Merit of Bryanskenergo (2004),"Honorary title "Honoured Worker of the Unified Energy System of Russia" (2006), "Diploma of Merit of Bryansk Regional Duma" (2011). This year, he added one more, very significant — "Honoured Power Engineer of the Russian Federation". Only one employee in Bryanskenergo currently has this award — Chief of Dubrovsky Distribution Zone Valentina Chechetko. Valentina was awarded the title "Honoured Power Engineer of the Russian Federation" last year.