26.11.2012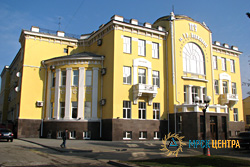 At the site of the Academy of Economics and Management of the Tambov State University after G.R. Derzhavin a round table discussion was held on the topic: "Russian personnel management: features of management practices". It was attended by personnel managers of large industrial enterprises in the region, professors and students of the university. IDGC of Centre — Tambovenergo division was presented with her report by Head of HR Olga Vyazovova.
The panelists discussed the mechanisms of interaction between businesses, industrial enterprises and higher education, as well as municipal and regional authorities in the field of high-quality staff training.
In her speech Olga Vyazovova extensively reported on the experience of cooperation of Tambovenergo on training young specialists with Power Engineering Faculty of the Tambov State Technical University through the implementation of series of programs on career guidance: "A third of specialists — is under the age of 35. Tambovenergo pays much attention to the formation of personnel reserve. We need to prepare a decent shift. I am convinced that human resource issues need to be considered, given the strategic objectives of the energy industry in general, attracting professionals with practical experience, aimed at finding innovative solutions."
Students of the Department of personnel management and marketing of classical university expressed their interest in the experience of activities of the Youth Council of Tambovenergo. On that day, a letter of thanks of TSU after G.R. Derzhavin was handed to Specialist of Public Relations Tatiana Nenasheva. Thus, the cooperation between the largest institution of higher education of the country and the leading regional energy company in the field of educational projects was distinguished.