26.11.2012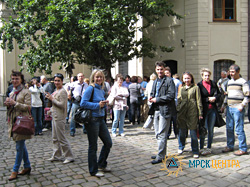 Employees of Velizhsky, Demidovsky, Smolensky, Kardymovsky and Rudnyansky Distribution Zones of IDGC of Centre — Smolenskenergo division devoted two days studying historical sites and attractions of one of the most beautiful cities of the Ukraine in Lviv. The trip was organized by the trade union committee of the Western zone of the branch for its members. The journey began with an introduction to the most interesting pages of the history. In Lviv the employees of Smolenskenergo and their families took a sightseeing tour of the city, visited the famous sites and those who liked to walk could appreciate the beauty of its streets and buildings.
During the weekend tour the power engineers visited the old town, the market square, saw the town hall, cathedral, Dominican and other churches, the Armenian Cathedral, the Jewish quarter, the monument to Georgy Zmeeborets and many other interesting places. On the tour the power engineers saw St. George's Cathedral, Lviv Polytechnic University, churches of Elisabeth and Mary Magdalene, park-mountain "High Castle", from where they saw the panorama of the city. Music lovers were able to enjoy an evening concert of organ music in a church.
IDGC of Centre — Smolenskenergo division in conjunction with the Russian Electric Trade Union not for the first year organizes visits of cultural and historical sites in Russia and neighboring countries for employees of the company. In 2012, the branch's staff has already made corporate travels to the cities of Belarus, Minsk and Brest, and last year visited the cities of the "Golden Ring" — Yaroslavl, Sergiev Posad, Rostov, and Pereslavl-Zaleski. The union plans to continue to organize such travels for specialists of Smolenskenergo.