19.11.2012
By Decree of the President of Russia Vladimir Putin # 1316 of 30.09.2012, a state award of the Russian Federation was given to an employee of IDGC of Centre — Yarenergo division.
For services in the areas of energy and many years of hard work the title "Honoured Power Engineer of the Russian Federation" was given to Anatoly Bochkarev, a leading specialist of logistics and procurement Office of IDGC of Centre — Yarenergo division. Yaroslavl Governor Sergey Yastrebov handed the power engineers the reward during the solemn awarding ceremony of employees of enterprises in the Yaroslavl region for labour achievements and contribution to industry, education, health and culture.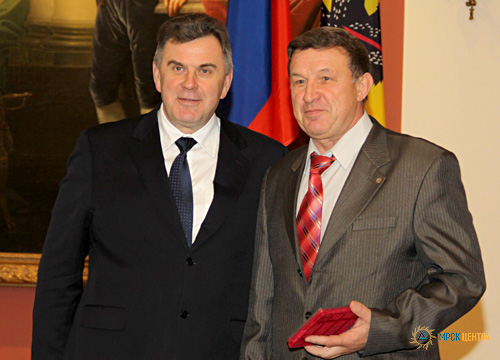 The state award of the Russian Federation is the highest form of encouraging citizens. It is assigned to employees for personal services in the development and stability of the energy sector of the country, implementation of new types of power generating plants.
44 years ago Anatoly started his career with the position of an ordinary electrician, was operating equipment. Then in 1985 he was moved to the position of an operator, and in 1996 he was appointed Deputy Director for common issues of Rybinsk Distribution Zone. Today, he has deserved authority and respect from his peers as a responsible specialist with outstanding background and exceptional professional qualities.
Anatoly Bochkarev already has departmental and corporate awards, including acknowledgment of the Ministry of Industry and Energy of the Russian Federation and the Diploma of Merit of the Russian Ministry of Energy.
Anatoly Bochkarev in his work always paid great attention to work with young professionals. Colleagues know Anatoly as a person who is in love with his power engineering profession, wise, always ready to help, to help with advice.
"Three generations of the Bochkarevs, working in the energy sector, have created their dynasty. Anatoly himself came to work after his mother, who came to work for the district energy system in the distant 1945 and remained there for 46 years. His children went in the footsteps of father and grandmother and also have chosen to work at Yarenergo.