16.11.2012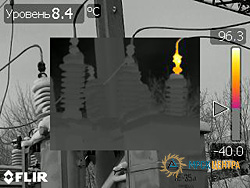 Specialists of IDGC of Centre — Tambovenergo division perform thermal imaging check of 110-35 kV substations (SS) to identify and prevent the formation of defects of equipment. Data and technical measures become especially relevant during the autumn-winter period.
Thermal imaging check of electrical equipment is one of the most promising methods of diagnostics, allowing to identify and correct early developing defects of thermal nature without interruption of power equipment operation.
According to the results of diagnostics in January-September 2012 experts of Tambovenergo revealed 156 developing defects of 110-35 kV electrical equipment at an early stage, which will allow in a timely manner to eliminate technological disturbances in the main circuit. The power engineers checked the power equipment as a whole, focusing on power transformers, 110 kV bushings, circuit breakers, switches, arresters, insulators, current and voltage transformers.
Currently staff of diagnostics service is provided with five advanced instruments of thermal imaging check. Until the end of 2012 it expected to receive seven more thermal imagers. It is also planned to acquire ten thermal imagers in 2013 to equip diagnostics crews of Districts of Electrical Networks, which will allow in a timely manner to detect defects that affect the quality of power supply and make the right decisions to prevent failures in 10/0.4 kV networks.