16.11.2012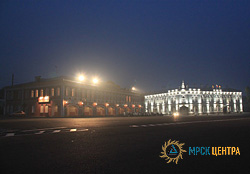 IDGC of Centre — Yarenergo division is completing the reconstruction of street lighting in Assumption square of Uglich. Modern energy efficient equipment, installed by power engineers in the square, emphasizes the visual appeal of the historical building while reducing energy costs.
Specialists of Uglich District of Electrical Networks (Distribution Zone) of Yarenergo removed the old equipment and installed hexagon metal poles in the square, installed 150W LED lighting fixtures and self-supporting insulated wire (SIW). Just to create the new lighting system the power engineers used 12 poles, 24 lighting fixtures and 1 km of SIW. In addition, a street lighting control cabinet was installed at the facility, which allows to adjust light levels based on real needs. Each pole has two lighting fixtures, one of which will turn off automatically at night.
Lighting of socially important and historical sites is part of the street lighting development program of Yarenergo in the Yaroslavl region. So, in 2012, power engineers of Uglich Distribution Zone reconstructed street lighting in the villages of Red Hill, Ninorovo, Vozdvizhenskoye and Nikolskoye. At year end, similar work is planned in the settlement of Pine.
For information
Assumption square — the central square of the city of Uglich, which called after the Church of the Assumption, which once stood on the spot where now stands the statue of Lenin and the Chapel of the memory of all the defenders of the Motherland at all times. In the past, it was the centre of commerce and social life of Uglich, today Assumption square is of ​​great historical and cultural value, and is also one of the major tourist destinations of the city.