07.11.2012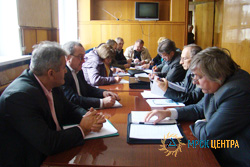 IDGC of Centre — Voronezhenergo division held round-table discussions with the heads of all 32 municipalities of the Voronezh region with participation of heads of rural settlements.
The main purpose of these meetings was to inform the rural authorities about the actions of power engineers with the threat or occurrence of massive power outages, the establishment of the operational headquarters and information centres to eliminate or prevent technological failures, as well as to provide with contact telephone numbers by which the public can apply for the necessary information.
The heads of administrations of settlements, in turn, asked the power engineers their questions, which were mainly concerned about grid connection to the networks, installation and replacement of meters, and the organization of outdoor lighting.
The solution of each problem required an individual approach, which the specialists of Voronezhenergo tried to find in the course of the meetings.
According to Head of customer interaction of the branch Sergey Maximov, such meetings are necessary for building a constructive dialogue with customers and representatives of local government, understanding the existing problems for adopting measures to address them and to ensure reliable operation of power grids of IDGC of Centre.
Please, be reminded that for all matters relating to the activities of the branch, you can consult by contacting the Customer Service Centre of Voronezhenergo or by calling the around the clock Direct Power Hot Line of IDGC of Centre at 8-800-50-50-115 (toll free).