26.10.2012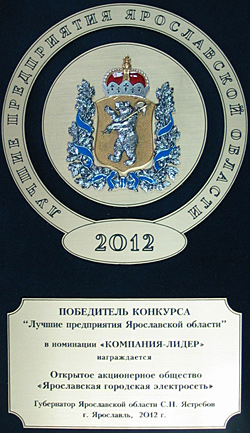 The concert and entertainment centre of the city of Yaroslavl hosted celebrations to mark the Day of Industry of the Yaroslavl Region. They were organized by the Department of Industrial Policy of the Yaroslavl region, the Economic Council of the Yaroslavl Region, and Yaroslavl Chamber of Commerce. During the event, the ceremony of awarding winners of the contest "Best Enterprise in the Yaroslavl region" on the results of work in 2011 took place. In the nomination "The Company — leader" the winner was Yaroslavl city electric grid (Yargorelectroset, a 100-percent subsidiary of IDGC of Centre).
Today Yargorelectroset as part of IDGC of Centre is committed to qualitatively and quickly solve problems to improve the work in the energy market, modernization and reconstruction of the worn-out networks, electrical equipment, development of customer service, thereby fulfilling its primary mission, which is to secure power supply to consumers and promote economic and social development of the city and the region.
"We are honoured to be among the best companies in the Yaroslavl region. Since its incorporation, Yaroslavl City Electric Grid conducts a socially oriented policy, fulfilling its obligations for the energy supply of the city, contributing to the maintenance of a stable socio-economic environment. High skills and professional responsibility of Yargorelectroset, gathered experience in the construction and operation of electrical networks gives reason to be confident in achieving also good results on the results of this year," — stressed Chief Engineer of JSC "Yargorelectroset" Sergey Pogozhev.