24.10.2012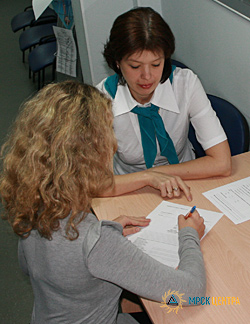 Specialists of IDGC of Centre — Voronezhenergo division summed up the customer direction for the first nine months of this year: power engineers received over 34.5 thousand requests of customers, of which 24.8 thousand — applications for the provision of various services.
During the reporting period, the branch received over eight thousand applications for grid connection, which amounted to 21% of the total number of requests. Most applications from consumers were for the procedure for grid connection of new facilities (more than 5.5 thousand applications) and the procedure to increase capacity (814 applications).
Additional services of the branch continue to remain in demand. Since the beginning of the year Voronezhenergo received nearly 16 thousand requests for the provision of value-added services. Consumers were interested in the installation of meters (15,145 applications) and services in support of grid connection (319 applications). Staff of Customer Service Centres are working to clarify the provisions of Federal Law of November 23, 2009 # 261 and RF Government Resolution of May 4, 2012 # 442 on the obligations of customers to equip power receivers with electrical energy metering devices, the requirements to installed metering devices and their installation location, their connection schemes and metrological characteristics, as well as the order of interaction with electric grid companies.
According to Head of customer relationship management of IDGC of Centre — Voronezhenergo division Sergey Maximov, experts of the branch always advise customers how to apply for the provision of a service, and will help draw up documents. "Grid connection support service is of special demand. It is comfortable for customers to contact us and receive a comprehensive service, which includes the installation of meters, the design of external power supply, and the installation of the ground loop, the necessary tests and measurements, and the opening of the personal account. However, we are constantly trying to optimize the time-frame for performance of additional services provided by the company,"- stressed Sergey Maximov.
For convenience, IDGC of Centre operates the around the clock Direct Power Hot Line at 8-800-50-50-115 (toll free), where consumers can get advice on all matters relating to energy supply and value-added services.