24.10.2012
Since the beginning of the academic year the doors of IDGC of Centre — Kurskenergo division traditionally open to students of educational institutions. In the first nine training months for future power engineers excursions to the Museum of Energy of the Kursk region and energy facilities are organized. This year, students had the opportunity to see the reopened after renovation Grid Control Centre (GCC).
The first in the current academic year to come to Kurskenergo were first course students of Department of "Electricity Supply" of Southwestern State University (YUZGU). For them, visiting the Museum of Energy of the Kursk region was a kind of initiation into their profession. During the tour, they learned about the people who were at the source of energy, built and developed the energy sector, the important stages of the energy industry and its role in the region's history. The students learned about today's work of Kurskenergo to maximize the reliability of the grid and effectiveness of power supply in the region to customers.
Accompanying the freshmen Professor of Department "Electricity Supply" of YUZGU Oleg Rybalkin underlined: "I love to come along with students to Kurskenergo. Almost all professionals who meet with my students — are graduates of our department. Nice to see them grown up professionally, have achieved some success. And better than they, who have worked five, ten or more years, no one will tell about all the pros of the so necessary and important power engineering profession, which was once chosen for themselves."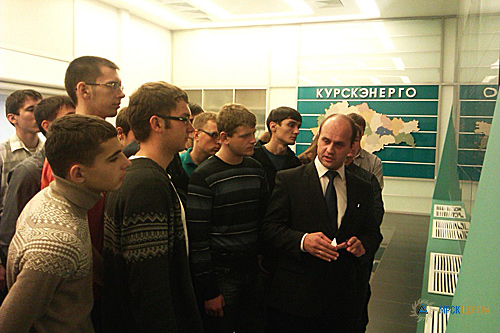 The renewed Grid Control Centre of Kurskenergo was presented to the students by Head of technology services, a graduate of YUZGU, Roman Dryuchin. He gave details of the GCC activities to manage modes of electrical networks and demonstrated all the features of the video wall consisting of 36 plasma displays. The students were able to see how the video wall first displays a single-line diagram of the network of 35-110 kV, and then details the objects at the operator's need, the voltage and current level, power consumption and power is analyzed, and how video surveillance of facilities is performed.
In the near future other students of YUZGU, Kursk Railway College — Branch of MIIT, Kursk electromechanical technical school, and vocational schools of the city of Lgov will also have a chance to see the inside work of Kurskenergo.
"As part of long-term cooperation with the educational institutions, we try to give the students — in the future these are our potential employees — the maximum representation of the distribution grid complex, — stressed Deputy General Director of IDGC of Centre — Kurskenergo division director Alexander Pilyugin. — These professional orientation sessions are very useful for students from a practical point of view, so the branch pays close attention to them."