19.10.2012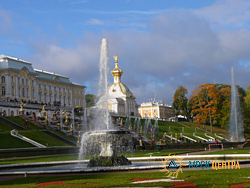 Staff of IDGC of Centre — Tverenergo division within the tour weekend made a sightseeing trip to the city of St. Petersburg.
During the trip, organized with the support of the primary trade union organization, Tver power engineers met with the sights of the northern capital. Specialists of Tverenergo visited Peterhof — the famous city of fountains and palaces, examined historical ensembles downtown, and learned interesting facts about the owners of stately mansions. One of the highlights of the trip was a visit to the Smolny Convent, striking with its monumentality and perfect proportions. The Tver power engineers especially remembered the walk along Nevsky Prospekt, which is characterized by unity and completeness of architectural appearance and is considered as the soul of St. Petersburg.
According to one of the participants of the trip, Engineer of category 1 of power lines service of high-voltage grid Office of Tverenergo Olga Mikhailova, the trip left positive emotions, which I want to share with friends. It was a great opportunity to learn about the history of the city, to visit the many interesting places, and to communicate with colleagues. Besides the city of St. Petersburg in autumn makes an unforgettable impression with the variety of colour palette of nature.
HR Director of the branch Sergey Zhirkov underlined: "Tverenergo puts special focus on proper recreation of its employees, for complete rest and new experiences contribute to cultural enrichment and team unity. Corporate travels allow branch employees and their families to relax and get acquainted with historical and cultural values."