19.10.2012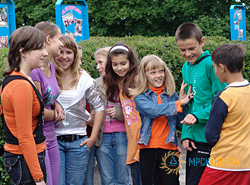 Administration and the trade union of IDGC of Centre — Orelenergo division annually organizes a comfortable and quality holiday for employees' children.
Currently, the company has already started collecting applications from employees who want to send their children to countryside recreational camps next year. All wishing can relax and improve their health.
When choosing camps wishes of children and their parents will be considered. In addition, power engineers will evaluate the comfort of the living conditions, quality of food, how interesting the leisure is organized.
Over 1 million rubles were spent to organize rest in 2012. So thanks to it more than 80 children of power engineers aging from 7 to 17 years rested in camps Breeze, Dream, Orel Girl, Jubilee and Red Sails.
It should be noted that children, whose parents are in the trade union committee of the branch, are given vouchers for no charge.