02.10.2012
Customer Service Centre (CSC) of Tambovenergo, located in the city of Tambov, registered its five thousandth client. The head of customer interaction of IDGC of Centre — Tambovenergo division Alexander Demin congratulated the distinguished visitor Artyom Israelian and presented him a commemorative gift.
The five thousandth client visited the CSC with the application for grid connection of his built house. "I'm almost finished building my house and decided to connect it to the power grid, for this I requested advice in the Customer Service Centre of Tambovenergo a month ago. I spent just 20 minutes to discuss all the issues. Experts explained to me the technical details, and consulted. I came today to put my application and turned out to be the anniversary visitor,"- said Artyom Israelian.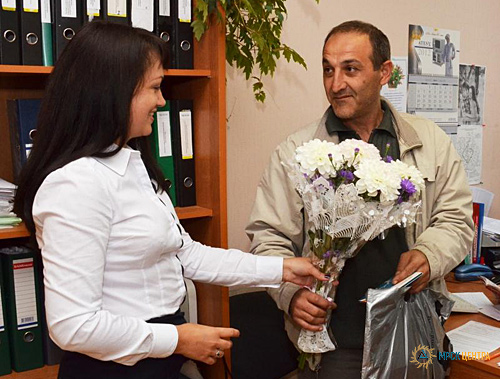 The consistently high quality of customer service, comfortable work schedule, a wide range of services to the public, attention and individual approach to each client distinguishes employees of the Customer Service Centre of IDGC of Centre — Tambovenergo division. In confirmation of this — a lot of appreciation of the visitors.
Work in the Customer Service Centre is in different directions, which allows electricity customers comprehensively to address all relevant issues. CSC experts receive applications for grid connection of power installations, replacement and installation of meters, service and repair of private package transformer substations and overhead lines, assist in the collection of documents for submission to physical and legal persons.
For all relevant questions you can also get information in every District of ​​Electrical Networks of the branch, by calling the Direct Power Hot Line at 8-800-50-50-115 (toll-free) and on the company's website at www.mrsk-1.ru.