27.09.2012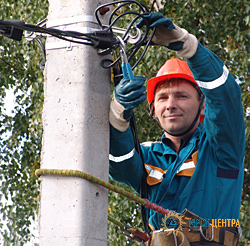 In order to streamline the process of providing additional services of IDGC of Centre — Orelenergo division switched to a simplified procedure for the conclusion of contracts with customers.
The simplified procedure applies if the service cost is less than 100 thousand. In this case, the customer can use an alternative form of standard contract — the contract invoice for payment, implying the reduction of terms of the contract conclusion.
Please, note that in addition to the core activities — transmission and grid connection to the company's electric networks, Orelenergo provides more than 10 types of additional services. These include the maintenance, repair and development of power facilities and street lighting networks, testing and diagnostics of electrical equipment, installation and replacement of meters, works under the responsibility of the client to perform the grid connection procedure.
For all questions related to additional services provided by the branch, residents of the Orel region can contact the Customer Service Centre at Orel, Moscow str., 28A and calling the Direct Power Hot Line at 8-800-5050-115 (toll free).