27.09.2012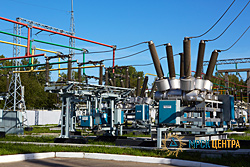 IDGC of Centre — Bryanskenergo division focuses on the implementation of measures aimed at improving the environmental situation in the Bryansk region. To perform environmental work the branch spent 212,000 rubles in the first half of 2012.
The branch put the main emphasis on implementing technical measures (total for 2012 the branch scheduled to run six events, in the first and second quarters the work was carried out on the implementation of three of them.) During the reporting period oil switches were repaired, oil circuit breakers were replaced with gas-insulated and vacuum. Transformer oil receivers, drainage devices of oil filled equipment at power facilities were repaired, and the gravel bedding under them was changed. The repair work on the power equipment continues in the third quarter.
Implementing technical measures for Bryanskenergo serves several purposes — to prevent unplanned outages that can occur due to obsolete equipment, as well as reduce the impact on the environment.
Quarterly employees of the production control and safety Office monitor the compliance with environmental safety regulations of contractors, who produce work at the facilities of the branch. Once a month, as part of the safety day in subdivisions of the branch, environmental checks are performed.
In order to improve the competence of personnel in the field of environmental protection and environmental management in the first half managers and responsible people of structural units of Bryanskenergo had their training and got their right to handle hazardous waste.