27.09.2012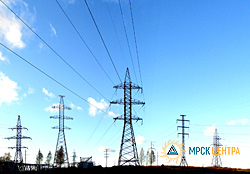 Preparing for the autumn-winter period is the most crucial period for Voronezh power engineers of IDGC of Centre.
To provide reliable and quality power supply to consumers during the autumn-winter peak loads Voronezhenergo takes a series of organizational and technical measures to prepare power equipment and train personnel to work in the cold season, developed from the experience of the operation through the previous autumn-winter period, as well as taking into account the "bottlenecks" and facilities with high risks.
Since the beginning of the year Voronezh power engineers have cleared 161.2 hectares of ROWs along power lines, running at 98.5% of the plan. Until 15.10.2012 the plan will be executed by 100%, which has yet to clear 2.4 ha.
To date, 1175.5 km of power lines of different voltage levels, 408 transformer substations of 6-10/0.4 kV and distribution points of 6-10 kV, 217 circuit breakers of 6-110 kV have been renovated. 5 substations of 35-110 kV have also been repaired.
To perform restoration operations the branch has 41 first responding mobile crews, who work round the clock. In addition, in the autumn and winter of 2012 8 mobile crews of 46 people and 16 vehicles will be used, equipped with tools and food for three days.
In addition, to ensure the supply of responsible consumers and critical infrastructure for the period of work on emergency response specialists of IDGC of Centre — Voronezhenergo division have 76 redundant power supply sources with a total capacity of 1.2 MW at their disposal.
In order to strengthen the training of operating personnel of the grid complex all branches of the company are conducting exercises to address the major technological failures with EMERCOM authorities, representatives of the regional administration, as well as with experts from FGC UES.
Till October 2 Voronezh power engineers plan to fully prepare the electric grid complex to operate through the autumn-winter period and get its certificate of readiness of the power system of the Voronezh region to work during peak loads.