26.09.2012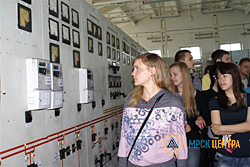 In September, 17 students of the regional state educational institution of secondary vocational education "Smolensk Polytechnic College" came to IDGC of Centre — Smolenskenergo division for practical training. All of them study at the 4th course on the specialty "Technical operation and maintenance of electrical and mechanical equipment". The placement students will work at Hislavichsky, Ershichsky, Monastyrschinsky, Hill-Zhirkovsky, Yartsevsky, Glinkovsky and Roslavl sky Distribution Zones of Smolenskenergo.
During the practice power engineers will introduce the students to the main activities of IDGC of Centre and the prospects of the industry, the boys can acquire practical skills, get a feel for the uniqueness and importance of the power engineering profession. The practice will be led by experienced professionals.
"We have been building career guidance as a system for many years, Smolenskenergo cooperates not only with a branch of the Moscow Power Engineering Institute, but with the institutions of secondary and primary vocational schools and schools of the city of Smolensk and the region", — comments the head of HR Alla Korolkova.
The technological practice of the students of Smolensk Polytechnic College will continue until mid-November.