24.09.2012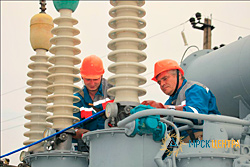 As part of the repair program in 2012 specialists of IDGC of Centre — Tambovenergo division performed the overhaul of 35/10 kV "Eastern", which is the main supply center of Umetsky district.
Tambov power engineers had repaired two 35 kV transformers, bus sections, four 35 kV oil circuit breakers, replaced power equipment with the service life limit. The landscaping of the substation is completing. Specialists also replaced communications channels, repaired fences, painted steel structures and installed engineering protection system.
— This year, half a million rubles were spent on the repair of the facility, — comments chief of the substation service of high-voltage network Office of Tambovenergo Vitaly Belyaev. — The substation "Eastern" is an important source from which the Umetsky elevator, social facilities and residential consumers are powered. The overhaul will significantly increase the capacity of power equipment, minimize the possibility of failures in cold conditions, and improve the quality of power supply.
The substation 35/10 kV "Eastern" was constructed in 1964 and reconstructed in 1973. The substation is a source of power for two and a half thousand people living in 12 settlements of the Tambov region.