21.09.2012
IDGC of Centre — Bryanskenergo division pays great attention to the support of its former employees — veterans of Bryanskenergo. Veterans' Council of Bryanskenergo conducts active work. Veterans are always welcome at the events that are held both within the branch, and the activities of the city and regional level.
Thus, in September a reporting and election Regional Conference of the Union Veterans of the Bryansk region was held in Bryansk. Before its beginning there was an exhibition of creative works done by hands of veterans. It was also attended by former employees of Bryanskenergo Lidiya Efimenkova and Lyudmila Trofimenko. Their creative works participate not for the first time in a variety of creative and art exhibitions in the region.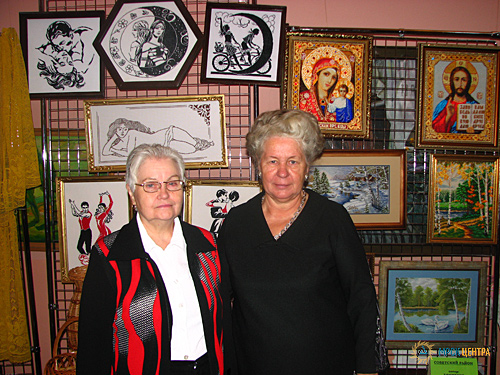 The presented at the exhibition pictures of Lidiya Efimenkova — these are icons and landscapes in the style of classic embroidery with beads. They are just made up as a pattern and carry a deep meaning, they differ with matching bright colours. Lidiya worked at Bryanskenergo for 38 years, and having retired in 1997, she was fascinated with beadwork. Year after year she improves her skills and gladly shares the results of her work with others.
Lyudmila Trofimenko presented pictures done in the style of classic embroidery with stitches. They win with their modern design. Her works attracted attention for their contrast. In the centre of the design — there is a dancing couple. The colours — a mix of red and black. This colour scheme of the works differs them much against the background of the exhibition. Lyudmila — is an enthusiastic person. Her interests range from gardening design to embroidery. The work experience of Lyudmila Trofimenko at Bryanskenergo is more than 20 years.
The participants of the reporting and election conference stayed near the works, performed by the veterans of Bryanskenergo, for long. The audience clearly marked their compositionality, unusual colours and harmony.