20.09.2012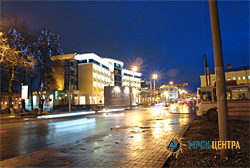 46 items of 49 items of the Action Plan for the preparation of JSC "Yargorelectroset" for the autumn-winter period 2012-2013 have been performed, which is 94%. JSC "Yargorelectroset" — a subsidiary of IDGC of Centre. The commission to check readiness of the enterprise to operate during the autumn-winter period includes representatives of IDGC of Centre, RTN, authorities of the city of Yaroslavl, GD of EMERCOM of Russia in the Yaroslavl region.
Please, do not forget that the autumn-winter period is characterized by the maximum load on the electrical network, and therefore it is the most crucial time for the Yaroslavl city mains. That is why the preparation for the autumn-winter period requires only a hundred percent implementation of maintenance and investment programs. To date, we can confidently say that by Q3 2012 the investment program will be carried out at 100%. The enterprise also created its emergency reserve of material and technical means necessary for timely restoration.
As for the annual plan to overhaul the electricity grid, it has been executed at 75%, while the schedule for August — at 108%. All this points to the fact that the plans for major repairs will be performed accurately and on time.
In preparation for the autumn-winter period more than 4 kilometers of cable lines of 6-10 kV were laid. In Krasnoperekopsky district supply cables were fed additionally from the substation "Perekop" to Distribution Substation-14 with a total length of 1 km. In the first half of September, these lines should be put into operation.
In addition, to improve the quality of power supply of the private sector more than 17 kilometres of bare wires were replaced for self-supporting insulated wire (SIW). Distribution Substation-3 was reconstructed in order to replace 11 oil circuit breakers with vacuum ones. All the work performed will enhance the reliability of electricity supply to consumers in the cold season.
The amount of work performed by today to prepare for the autumn-winter period suggests that all planned work is being carried out on schedule and will be completed on time, and uninterrupted power supply of citizens of Yaroslavl will be provided in full.