12.09.2012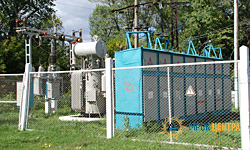 On the implementation of its environmental policy in the I half of 2012 IDGC of Centre — Kurskenergo division spent 646.08 rubles. These funds were spent as measures to reduce the negative effects of power facilities on the environment, and to increase the level of environmental safety at electric grid facilities of the branch.
IDGC of Centre — Kurskenergo division is successfully executing its multi-year long-term program for the installation of gas-insulated 110 kV circuit breakers, as well as the replacement in the distribution networks of 6-10 kV oil circuit breakers with vacuum. To improve the reliability of power facilities it is planned to repair and replace transformer oil receivers, drainage devices and oil-filled equipment. Such events allow to exclude the release of oil, adversely affecting the environment.
Reducing negative impacts on the environment, strengthening the control over the rules and regulations of environmental legislation of the Russian Federation, improvement of environmental safety in operations of the company, as well as professional development and personal environmental responsibility of employees — these priority environmental tasks are performed in Kurskenergo in full.
As part of a package of measures for the protection and management of water resources materials were developed on environmental impact study of limited allowable mass discharge of pollutants into water bodies.
For the protection and rational use of land waste mercury lamps, car batteries, used tires are stored separately in dedicated spaces in garages and warehouses of regional production bases in compliance with environmental regulations. At intervals of six months, the wastes are brought to specialized plants for disposal in accordance with the agreements with contractors. Household waste is stored in metal containers.
Routinely gravel bedding for oil-filled equipment in substations of 35-110 kV is replaced. Used gravel is transported to an industrial waste site.
"All the activities that are carried out in an integrated way in the branch, aimed not just at improving its environmental performance, but the actual reduction of environmental risks, prevention of possible emergency situations", — underlined Head of production control and safety of IDGC of Centre — Kurskenergo division Alexander Roshchupkin.