10.09.2012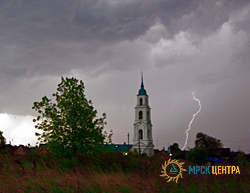 In the Smolensk region the spring and summer in 2012 was accompanied by severe thunderstorms, but due to early preparation of Smolensk power engineers of IDGC of Centre to the thunderstorm season the power system from March to May operated steadily with no significant damage.
The main objective of Smolenskenergo is to ensure reliable power system operation, including during lightning season from April to August. For the stable operation of power equipment during thunderstorms the branch takes measures to protect power lines of 6-110 kV, substations of 35-110 kV and transformer substations of 6-10 kV.
For the lightning season 2012 the branch began preparing in mid-March. To reduce the probability of emergency in storm period a list of specific actions, developed with consideration of disruption during the same period last year, was prepared and implemented. In due time the measures were taken for trouble-free passage of the given period: power lines and substations were inspected, the condition of lightning protection of electrical equipment, suspension and pole insulation was checked, surge arresters of switchgear and power lines, fault recorders, oscilloscopes, fault locators on power lines and relay protection and automation was inspected.
"The lack of significant damage to lines and power equipment of Smolenskenergo while operating through the thunderstorm season in 2012 is the result of the successful implementation of a complex of measures to prepare for this period", — commented Head of production control and safety Office Vasily Gipich.