05.09.2012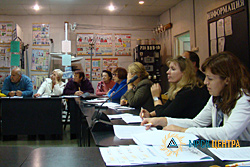 In the Training Centre in the Voronezh District of Electrical Networks a round table on energy saving in people's gardens was held. The round table was organized by specialists on customer interaction of IDGC of Centre — Voronezhenergo division.
The meeting with the experts was attended by the heads of such Voronezh nonprofit gardening associations as "Sennoye", "Lear", "Quiet Don", "Quiet Don 2", "Quiet Don 3", "Lapis", "Rainbow", "Builder" "Don", "Dreams", "Spring", "Spring 2", "Aluminum" and "Ceramics". The main issues discussed were the introduction of energy-saving and energy-efficient technologies at gardening plots, allowing to increase the reliability and security of networks, and for gardeners — to save on electricity costs and receive high-quality services in the field of electricity supply.
Head of customer interaction of the branch Sergey Maksimov told the round table participants on the services provided by IDGC of Centre — Voronezhenergo division under Federal Law of November 23, 2009 № 261 "On energy saving and energy efficiency". "In the framework of implementation of the law energy suppliers are obliged to annually provide horticultural associations to perform energy efficiency measures. IDGC of Centre has been developed and approved a program for mandatory energy audit. So, at all business facilities an examination will be made and then a procedure of obtaining energy certificates will pass, and measures to improve energy efficiency on the basis of the data will be formed."
In addition, Sergey answered all the questions of managers Voronezh nonprofit gardening associations related to the installation of "smart" electricity meters having a high accuracy class. The experts urged the panelists to contact Voronezhenergo for quality and timely provision of services for the design of measurement systems, installation, replacement and commissioning of electricity metering systems. Sergey underlined that in the first half of 2012 IDGC of Centre — Voronezhenergo division replaced about 5000 meters across the Voronezh region.
To get information about all additional services provided by IDGC of Centre — Voronezhenergo division, please call the Direct Power Hot Line at 8-800-50-50-115 (toll free) or contact the Customer Service Centres.