05.09.2012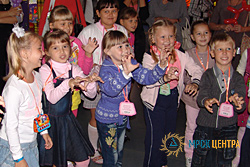 "The school must begin with a holiday" — it was decided in IDGC of Centre — Orelenergo division and organized for first-graders a merry celebration in honour of the Day of Knowledge. Orelenergo has been conducting such events for several years in a row.
The heroes of the festivity were 69 children of workers of Orelenergo, who this year for the first time sat at desks. Families of power engineers from all parts of the Orel region were invited to the Green shopping mall together to celebrate this important event in their life.
Employees of Social Department prepared a fun entertainment program with contests, games and gifts, which fell to the liking of all the kids. At first the heroes of the occasion were confused by such attention. But the excitement quickly passed when funny clowns came down to business. They managed to draw into the game even the most shy, so no one was left behind.
While the children played games, moms and dads had a chance to relax, take a walk at the mall. However, the children's games were so exciting, that almost all the parents instead of going out with passion got involved in the game with the boys and girls.
For the boys that day much was for the first time: the first time they watched a cartoon in 3D, tried their hand at bowling, played unlimited the machines and attractions. Orelenergo staff took care of treats and gifts.
— We liked best magic glasses in movies, and air hockey, and the machine where you can win prizes, and ice cream — the kids vying the list. And, recollecting themselves, they added that they wanted to learn only with "A".
— My daughter Xenia was waiting for this day forward — shares his impressions Expert of property management and consolidation of electric grid assets Viola Palyga. — She told friends that "my mother's company" organizes the best holidays. Last year she participated in something like that, when she took the 2nd place in the corporate drawing competition. But this time, the event exceeded all our expectations. Xenia especially liked the bowling, in which she played for the first time, but despite this, managed to knock out the strike. The celebration was organized by the soul. These are remembered for a lifetime. I think all the children got a lot of positive emotions before the first academic year.