06.09.2012
Power engineers of IDGC of Centre from the city of military glory Yelnya in the Smolensk region took part in the Sports Games, which are dedicated to the Day of Sportsman.
The event began with an opening ceremony of athletes and participants of the regional sports contest in which Yelninsky district won. The winners were awarded certificates, gifts and photo albums with a chronicle of the last Games.
It is a pleasure to note that the team of Yelninsky DEN in the set-up was distinguished with the same uniform, in which they are dressed when they participate in the Games of Smolenskenergo. In the competition of teams of city companies the main competitors to the power engineers of IDGC of Centre were DRSU, LLC "Guards" and the District Department of Youth Affairs.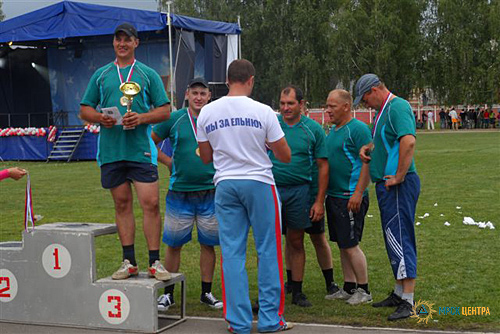 After the march-past of sportsmen the sporting events began, one after another: arm wrestling, performances on stage, installed on the football field — martial arts, fitness, break dancing, paintball competitions like fun starts. Professional judges came from Smolensk, it was envisaged to weigh the athletes and their distribution by category, as in professional sport.
In arm wrestling the 1st place in the maximum category over 80 kg was taken by Driver-Electrician of a mobile crew Nikolay Glushachenkov, his colleague won the third place in the same category — Master of Yelninsky DEN Yury Shcheglov.
The Sports Games included not only traditional competitions, but also of unusual events: eating cakes to speed with hands tied behind, who could hold longer his breath in a bucket of water, and unusual exciting relays. But the most interesting challenge — a tug of war back to front. According to the fans it was very spectacular, the team of Yelninsky DEN won a landslide victory. "They just stood in line, grabbed the rope and went, they did not drag it, and just went along, it would seem without any difficulty, and the rivals just 'crawled' behind them. By continuing applause of spectators the power engineers' team became the winner in that contest,"- says one of the organizers of the competition Galina Vartanova.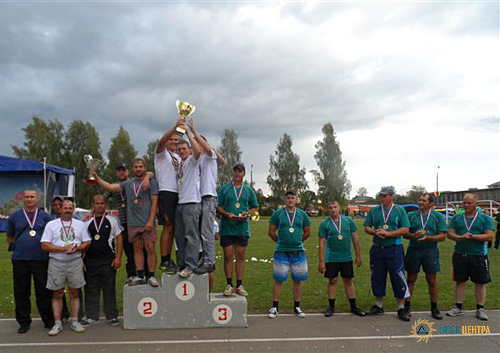 In the final standings the power engineers got bronze. All the winners received medals and cash prizes, as well as a cup for the victory, which was awarded by the Smolensk Oblast Duma deputy of the 4th convocation Nikolay Kovalenkov.
"In my opinion, the power engineers again showed themselves the most organized and responsible participants: we try to take part in all social activities under the leadership of the district. Last year at such competitions, which were dedicated to the City Day, we were the first. The boys are always happy to take part in these events, adequately representing Yelninsky District of Electrical Networks", — commented on the performance of the team Chief of Yelninsky DEN of IDGC of Centre — Smolenskenergo division Alexander Reunin.