27.08.2012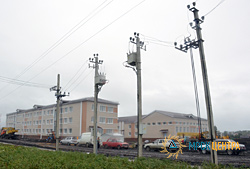 Construction of a school in the agribusiness village of Tatanovo is being conducted in the framework of the regional targeted investment program. The project cost is 500 million rubles appropriated from the federal and regional budgets.
The Tambov region is the center of Russia's food security. The region has large-scale projects in the field of agro-industrial complex (AIC). Thus, in the Tambov land serious work is being performed to improve the investment climate, and agricultural financing and insurance is being developed. Now the main task of the food security program — it is physical and economic access to high-quality and safe food for each family living in the Tambov region. Considerable importance is paid to the selection of professional personnel for the agricultural sector. That is why the new educational project — the agribusiness school, aims to train professionals in the industry already at a very early stage — at school.
Power engineers of IDGC of Centre make a significant contribution to the socio-economic development of the region, supporting initiatives of the Tambov region's authorities. To this end, three years ago at the site of future development specialists of Tambovenergo moved 700 meters of 10 kV power lines. Now the new school campus with good infrastructure is powered by the substation 35/10 kV "Gorelskaya" and substation 35/10 kV "Tatanovskaya". During the works a 10 kV power line and 10/0.4 kV two-transformer substation were constructed. The total capacity of the connected facility is 416 kW. Currently there is a contract concluded for operation and maintenance of the electric grid of the school campus.