21.08.2012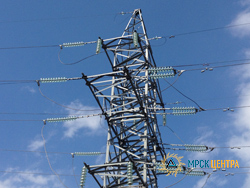 During the first half of 2012 IDGC of Centre — Lipetskenergo division received 2426 applications for technological connection to the electricity grid, with a total capacity of 100.1 MW, which is 20.8% more than the same period last year.
By July 1, 2012 1262 contracts have been performed in the amount of 24.7 MW. Most of them - 758 contracts – referred to grid connection of power plants of residential customers.
The most important facility connected to networks of IDGC of Centre in Lipetsk was 110/6kV Substation with a capacity of 10 MVA of OJSC "Special Economic Zone of Industrial Type "Lipetsk", designed to power the tire production plant "Yokohama".
The indicated statistics show an increase in the energy needs of the population in 2012, which, in turn, is the result of socio-economic development of the region. Active rate of housing and commercial development, the development of Special Economic Zones and social projects help power engineers improve their performance, including in the part of the contracts for technological connection.
To create the most comfortable environment for customers at the stage of contract conclusion specialists of the branch take all steps to ensure that the client was confident in the reliability of the company and the high quality of its work. For the convenience of consumers in the Lipetsk region there are 3 Customer Service Centres in operation - in Lipetsk, Yelets and Dankov where a customer of services can learn all the necessary documentation of legal, technical and organizational character and receive counselling of qualified staff.
"Power engineers must always be one step ahead of the economy. To achieve this goal we solve a range of problems with regard to the interests of each of our customers, anticipate the needs of the society as a whole and implement long-term programs. With the growing needs of the region IDGC of Centre is successfully coping with the tasks of electrical supply, as evidenced by a large number of satisfied customers", - stressed Head of technological connections Office of Lipetskenergo Eduard Kachura.